Cantilever Racking Georgetown, TX
So much warehouse space is wasted by horizontal storage. Posts, columns, and shelving can needlessly take up a large portion of your usable storage area. If you need to store oddly-shaped and sized items, such as pre-packaged lumber or pipes, cantilever racks provide advantages that conventional shelving simply cannot match.
OUR CANTILEVER RACKING & STORAGE SYSTEMS: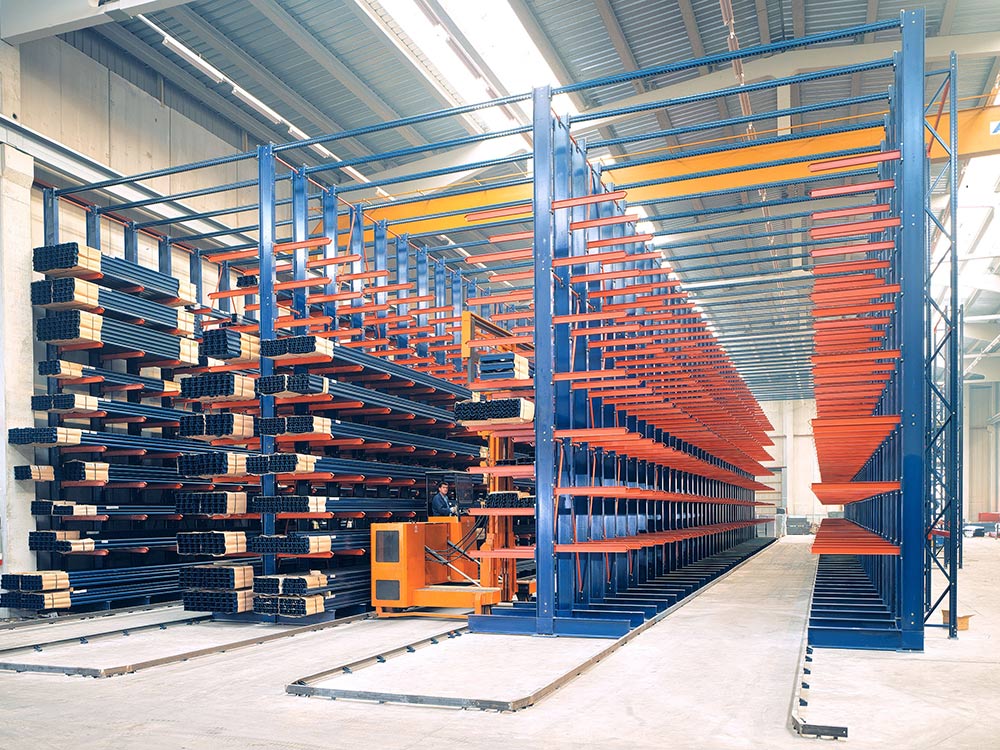 Hold Hard-to-Shelve Items,
such as lumber, steel pipes, tubing, & more
Utilize Vertical Space
to get the most out of your warehouse
Provide Flexible Design
to customize your storage system for your needs
Since cantilever racks use beams or arms rather than shelves, it is easy to adjust the height, angle, and position of the arms. Depending on the size of your storage load, you can even add more cantilever arms to increase holding capacity. This reduces handling time and allows you to get more done in less time. When you can configure your racks exactly as you need them, stock is more accessible, enhancing productivity and accuracy across the board.
CANTILEVER TYPES AND USES
Cantilever racks, also known as lumber racks or pipe racking, are heavy-duty storage racks meant to hold long, bulky items that would otherwise be difficult to store in standard pallet racking. One of the biggest advantages to using cantilever racks in your warehouse is the easy access they provide. The open design of cantilever racking allows excellent line-of-sight to find items more easily and accurately.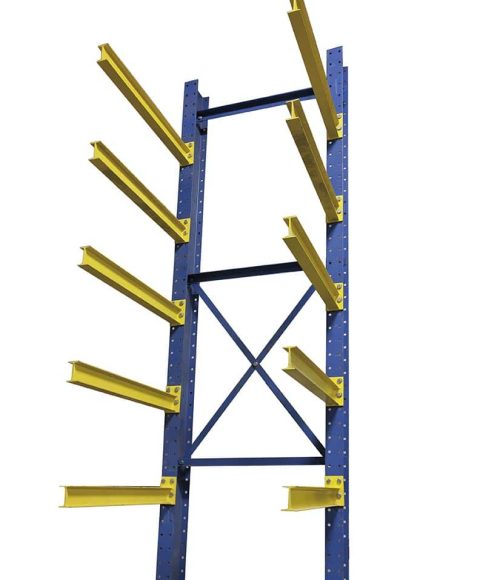 Cantilever racks are made with large, sturdy columns supporting horizontal arms with horizontal and vertical braces. These long cantilever beams are perfect for stacking and storing large pieces of:
Lumber
Plywood
Wooden beams
and more
Not sure whether you need light-duty, heavy-duty, or something in between? Get in touch with our storage experts to find the right cantilever racking system for your facility.
Long, thin items that can be especially difficult to store in a typical warehouse, such as:
Piping
Tubing
Steel racks
Beams
Metal stock
Cantilever racks provide an open design that is highly visible, accessible, and easy to load and unload. Plus, with a sturdy internal support system and flexible design, cantilever racking is perfectly equipped to store even the heaviest items.
Looking to organize your warehouse inventory with cantilever racks? Contact us today to get started.
Our upright cantilever racks come in single or double-sided configurations, which allow for storage on both sides of the rack. This also helps fit more shelving per square foot, regardless of your facility's size or shape. Simply Rack has a wide variety of sizes, models, and cantilever arm lengths with weight capacities to hold even the heaviest pipes, lumber, and more.

PERSONALIZED SERVICE
Our storage and racking solutions are unique to your facility and your needs.
IN-HOUSE STOCK & SUPPLIES
Don't wait for shipping! We have supplies in-stock and ready to be installed in your warehouse.

SUPPORTING SERVICES
We go beyond supplying shelving to offer warehouse design, relocation, & more
Are you growing? Simply Racks has what you need to expand your warehouse. Are you downsizing or closing? We'll buy your surplus equipment at a competitive price. We service the US, Canada, Mexico, Caribbean, and Pacific Rim.
CALL US TODAY! (844) 722-7225
CONVENIENTLY LOCATED IN CENTRAL TEXAS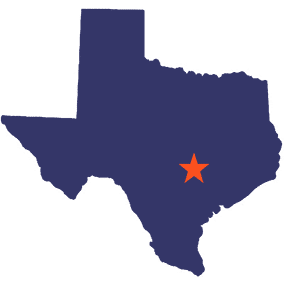 Frequently Asked Questions
What is a cantilever?

A cantilever is an inflexible metal structure that is supported on one end, while stretching outward horizontally on the other end. It usually extends out from a strong vertical support like a wall or storage system.

Should I use a structural or roll-form rack?

A warehouse roll-form rack system is the racking of choice for light and medium storage, while on the other hand a structural rack is often the preferred solution for higher density and thicker

applications. Structural racks are thicker and the heavier construction offers improved resistance to impact from forklifts entering and exiting the racks.
Martin W
Customer service is #1. I have purchased racking from them on several occasions and have always been blown away by their efficiency. My orders have always been ready to load, they have me loaded and ready to go in no time at all. Rack Quality is Excellent. A+++ rating in my book.
Brad C
We were so pleased with our new racking and shelves from Simply Rack. Tracy was AMAZING throughout the process and with Mike leading the installation crew, it was completed to our specs exactly. We would highly recommend Simply Rack. The price was right, the service was outstanding and the overall experience was excellent. FIVE STARS!
Nick K
I love working with them. We have used them for our racking needs for years. As our business grows they continue to offer great service, are detailed oriented, and always have what we need. Little far up on the north side from where we are but worth the drive.