The pace of commerce keeps accelerating. Warehouses face increasing pressure to respond faster to this demand. Anyone running one must ensure accurate order fulfillment while making the most of narrow profit margins. 
Meeting these goals comes down to fool-proof organization. From pallet racks to strategic shelving, a great storage plan for your warehouse improves efficiency and productivity throughout operations. As an added bonus, this reduces costs in the process.
The right storage system helps to:
Make the most of your warehouse space
Avoid misplacing or losing items
Improve inventory handling, density, and turns
Ensure worker safety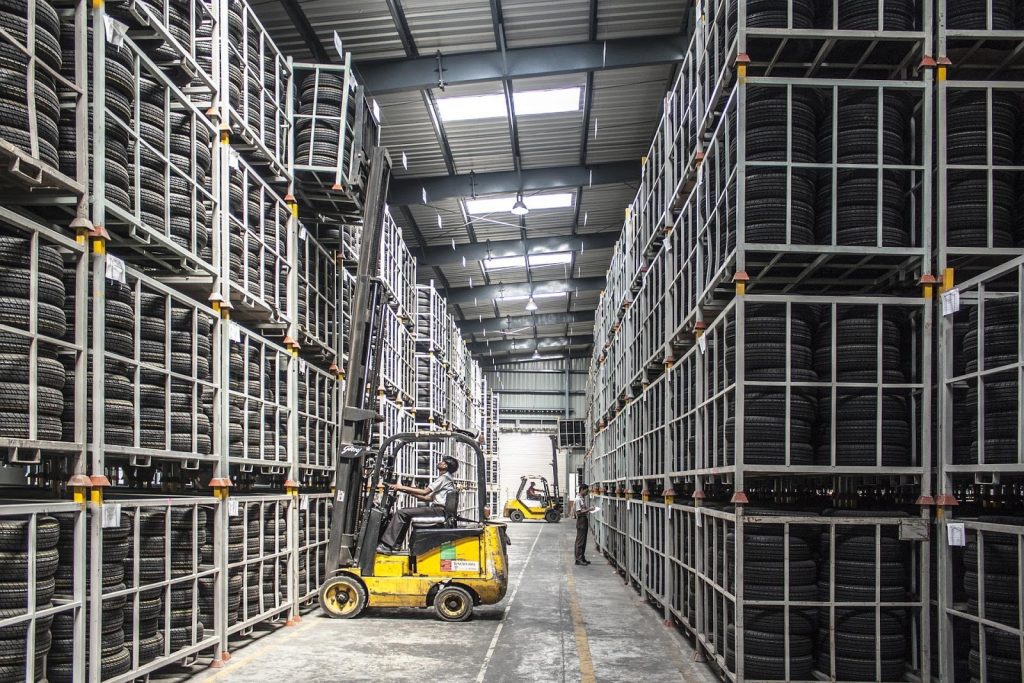 Better organization starts with choosing the ideal storage system for your warehouse. This system should align with the warehouse's processes, industry served, and scope of operations.
Shelving
Sturdy, reliable shelving is one of the most practical and low-cost solutions for warehouse storage. Easy to install and manipulate, shelving can maximize floor space and provide quick access to inventory.
Warehouse shelving also seamlessly integrates into its logistical flow — supporting its efficiency and evolving to meet new needs. The right option for your business depends on:
What you plan to store on shelves, including size, weight, and fragility
How you need to access items
Products' stocking frequency
Rivet shelving
Economical and strong, rivet shelving — or boltless, bulk shelving — is applicable to a range of uses. But they work especially well for warehouses that:
Require a lot of units with multiple size options
Need to extend the shelves' sizes throughout the year to accommodate products
Want to access units from all sides during loading and picking
The shelves' interlocking rivets create a platform for whatever materials you need to store — especially bulky items that get obstructed by "X" braces. This design also supports almost twice the load capacity compared to standard steel shelving units.
Carton flow shelving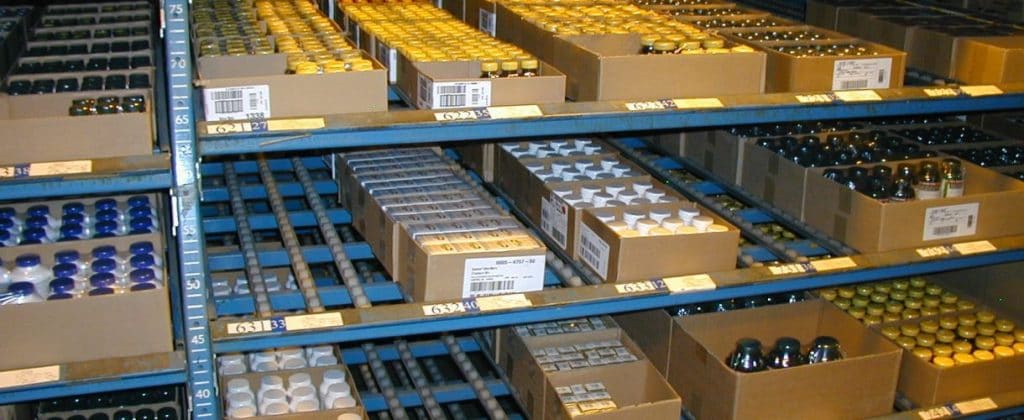 Carton flow shelving helps increase operational efficiency in warehouses that store smaller items with high inventory turnover.
Merchandise is stocked at the rear and moves forward as each item is picked out for distribution. You can also set up these shelves to accommodate multiple SKU sizes.
This system gives less product damage, better inventory control and order accuracy, and improved picking and stocking speed. You can also adapt carton flow shelving to store pallets, but they can support a limited amount of weight and size.
Clip-type steel shelving
This style of shelving offers warehouses more flexibility in arranging shelf locations. While the compression clips don't support as much weight as bolts, the design creates a higher-density shelving system.
This setup is ideal for warehouses that need more compact shelving options. Warehouses can also benefit from the ability to add more shelves, closed sides, and backs where and when they're needed. This built-in adaptability supports easier storage management for businesses that may have inventory organized in many small parts.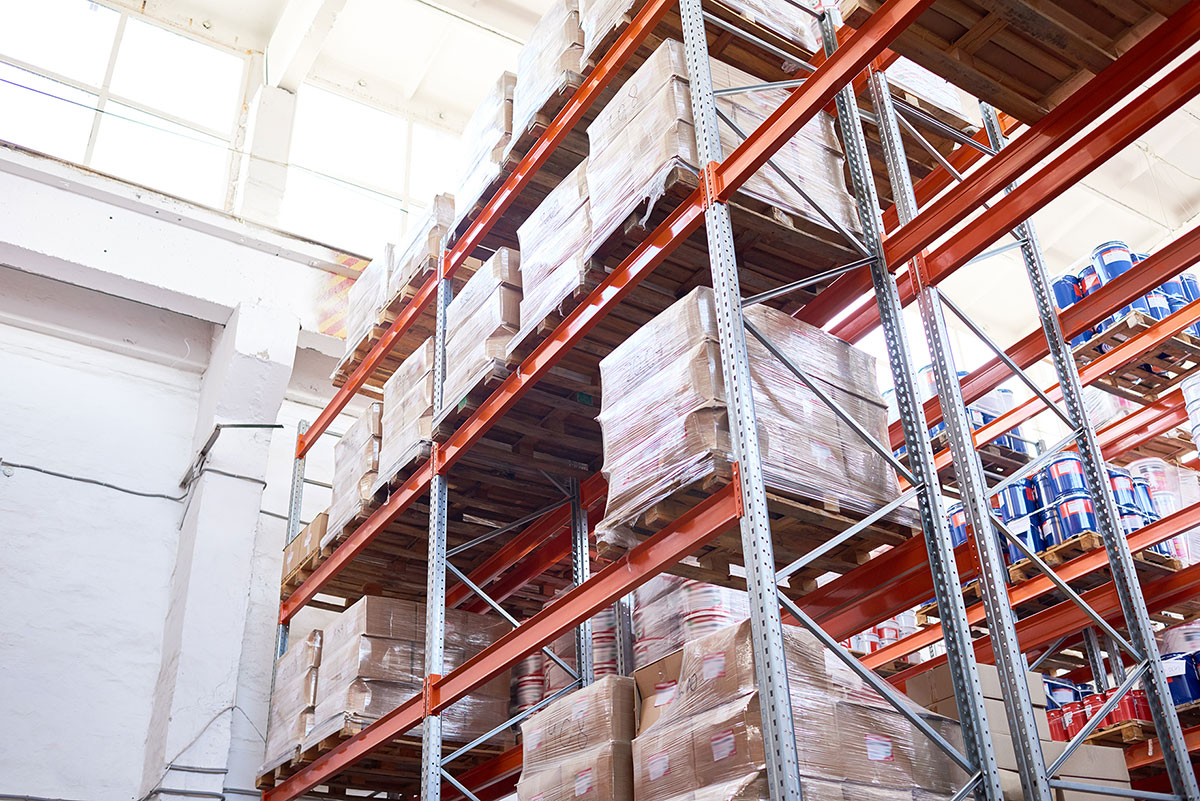 Pallet racks
While shelving gives you quick product organization and retrieval, a warehouse racking system optimizes storage capacity. Taller, deeper, and heavier-duty than shelving units, racks generally store items you'll access with machinery or automated systems, rather than by hand.
Depending on your warehouse's operations, pallet racks can integrate with shelving systems, as well. Different styles of pallet racks can even work in combination, each serving a dedicated part of your warehouse's needs.
At Simply Rack, we have used pallet racking options available as well, so you can maximize your storage system's return on investment.
Selective pallet racks
With their single-pallet depth, these racks offer access to a wide range of different products at a glance. This design is also highly customizable to your current storage and handling processes.
Simple and stackable, selective pallet racks are great for warehouses that:
Have a large number of different products in low quantities
Require multitasking with multiple forklifts or other equipment to process orders
Operate on a first-in-first-out inventory (FIFO) system, like with perishable items that need to be moved in the order they were received
Pushback racking systems
Pushback racks can stack six pallets deep, with a gentle incline that lets products slide forward as they're picked out by any kind of forklift. You can also store pallets on both sides of the aisle without losing accessibility.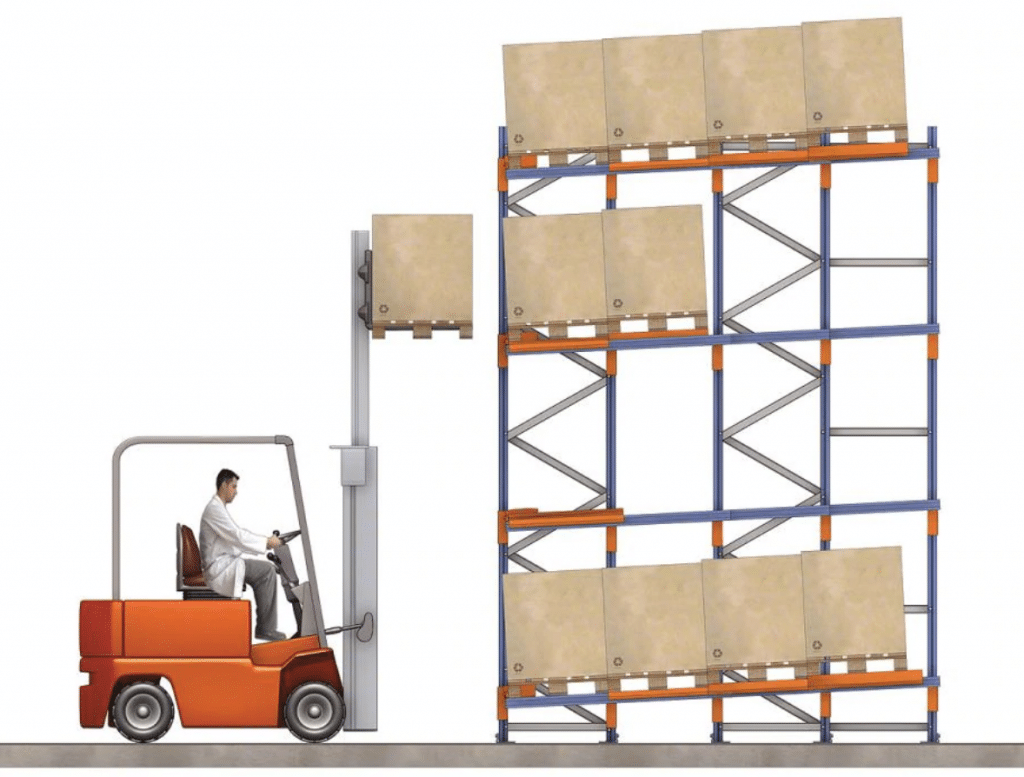 The system supports greater storage density than other options for warehouses using a first-in-last-out (FILO) product rotation. It also gives logistical help for warehouses that need:
More pallet storage while staying highly selective to SKUs
Direct access to multiple product categories or lines
Easier operations by doing away with forklift aisles, reducing traffic
Pallet flow racks
Pallet flow racks offer similar benefits to the pushback racking system but cater to date-sensitive warehouse inventories that need FIFO picking.
The design offers extra functionality over the selective pallet racks, letting you go up to a 20-pallet depth, so you store more goods in less space. But the product flow also gives you faster turnaround for warehouses that store a high volume of products with low SKUs.
Aside from this FIFO design benefit, pallet flow racks:
Reduce the need for wide aisles for forklift maneuverability, which also saves space
Lower labor demand, with automatic product rotation and more organized forklift traffic
Allow easier access to items without rearranging inventory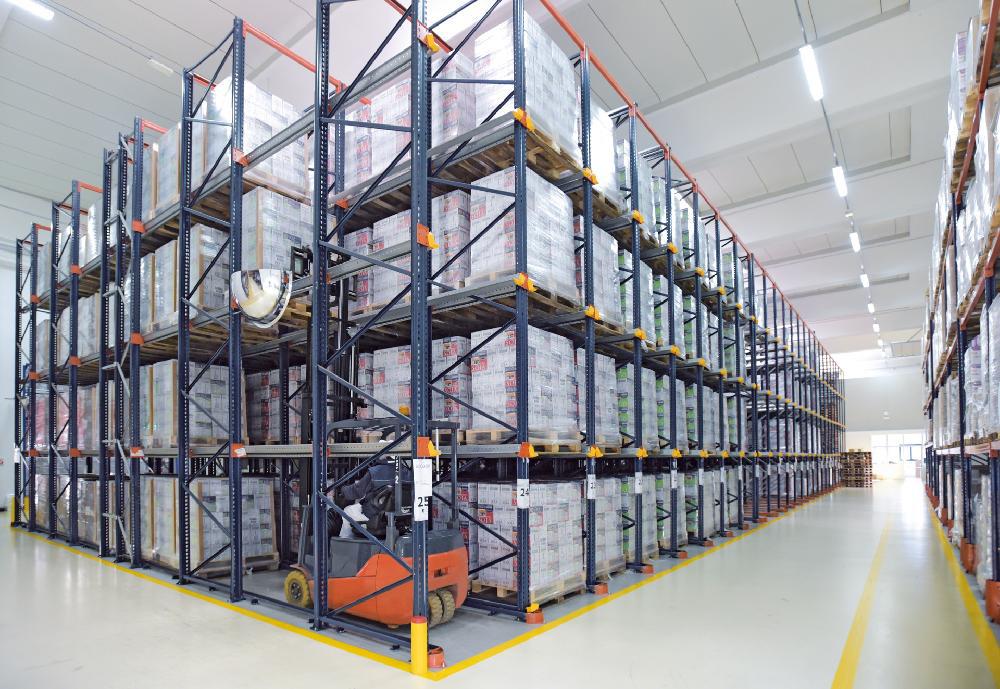 Drive-in pallet racking
Best for storing long-shelf-life items, drive-in racking is a simplified, cost-effective, and space-optimizing solution for warehouses that:
Store one or few types of product
Don't need to take individual goods
Organize fragile products that can't be stacked
Store seasonal items or frozen goods
This system also serves to future-proof operations, as it's easy to move, change, and upgrade to suit evolving needs.
Teardrop pallet rack
By design, teardrop racks are the most adaptable pallet storage options available. The "teardrop" sliders let you change up the layout, add new shelving, and adapt the racks' functions based on varying storage needs.
Because of this versatility, teardrop racks also integrate with existing systems — but their light weight makes them easy to disassemble and store when not in use. This makes them the ideal warehouse pallet racking option for businesses with ever-changing needs, like those that:
Store a broad range of pallet and merchandise sizes
Have stock that adjusts by season
Need storage flexibility that's easy to interchange
Learn more about the different types of warehouse racks in our complete guide to pallet racking.
Non-pallet storage
Whether due to size or handling requirements, some products are not appropriate for palletization. Along with the many purpose-driven shelving options available, a warehouse can incorporate other systems to boost its non-palletized storage efficiency.
Cantilever racks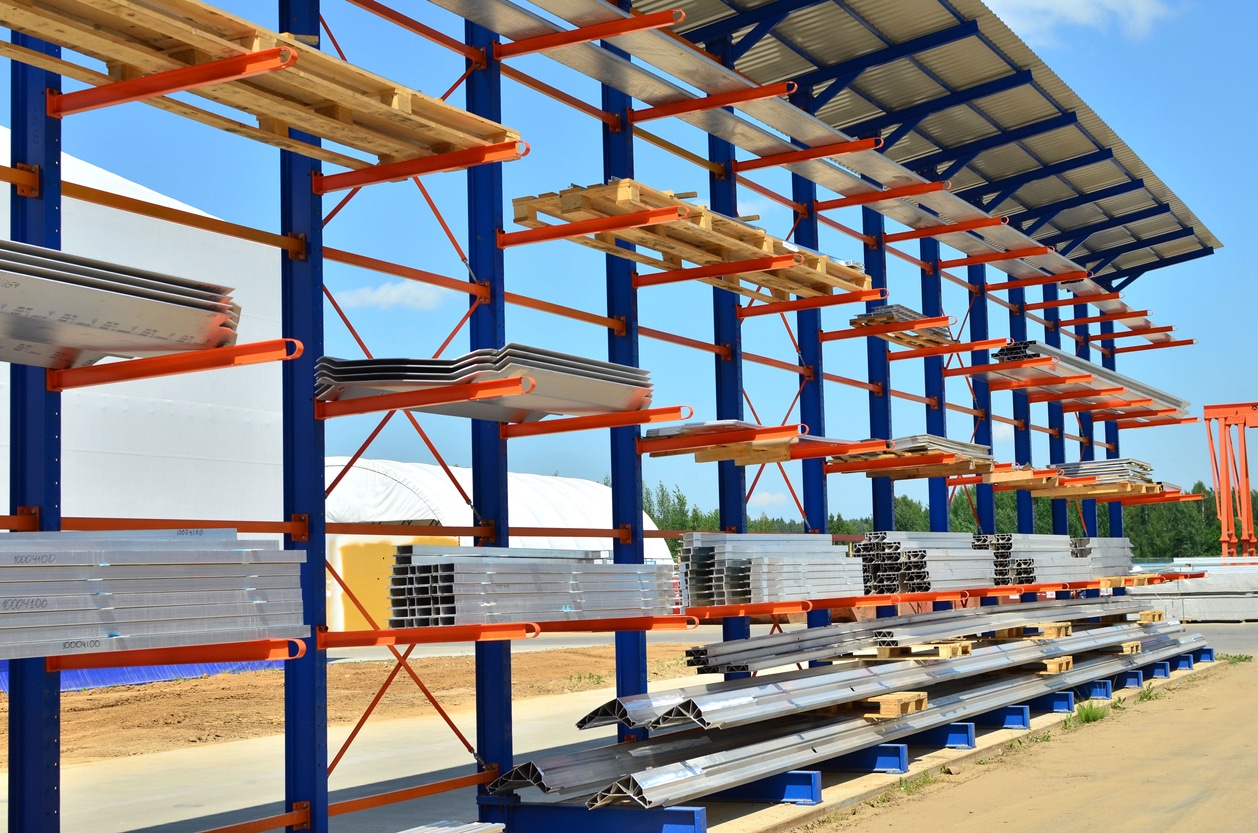 A cantilever rack is either a freestanding or wall-attached unit with multiple levels of storage arms. It offers more adaptability for warehouses that store bulkier or hard-to-shelve items like steel building materials, carpeting, or even pre-packed furniture.
Its open-style design allows for easy placing and retrieval of items that might otherwise get buried within longer-storage pallets. This frees up space in other areas, improves productivity, and — since they're forklift-compatible — your team can still access products quickly.
Stack racks
Stack racks are purpose-built for retail and other industries where buying trends come and go in an instant. Because they're free-moving, it's easier to rearrange products closer to the loading dock based on popularity, demand, and seasonality.
Their portability and adjustability also:
Reduce over-stacking that can result in product damage
Adapt to your storage needs, like loading long pieces of plywood or PVC tubing along several racks
Utilize vertical space to maximize storage
Improve efficiency, as you can organize packages by metrics like destination or weight and move them to the right area, cutting out the need for wooden pallets
They can even double as shipping racks or long-term storage for products like seasonal merchandise. Then, when they're not needed, you can easily break down stack racks and store them for future use.
Storage system optimization
The right storage system — or combination of systems — can enhance your warehouse's usable space, logistical efficiency, and operational productivity. But a strategic storage design considers how to maximize these outputs, further improving profit margins.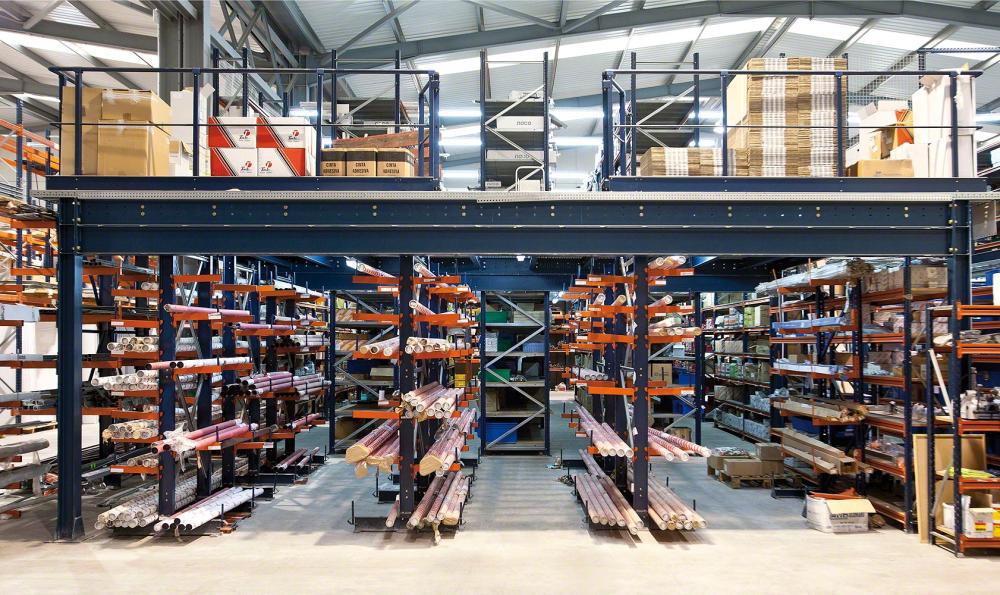 Mezzanine flooring
Depending on your warehouse's height, mezzanine floors can double, triple, or even quadruple your floor area by extending it vertically.
You can customize these elevated platforms to any layout or need. They're easy to take apart and move around when your needs change. This extra room incorporates right into your floor plan and workflow, while:
Greatly increasing product storage space, turnover, and output
Offering workspace for administrative offices as the business grows and expands
Creating temporary storage or workspaces
Conveyor
Popular in product handling and packaging businesses, powered conveyors can improve efficiency in almost any industry. They're versatile enough to set up anywhere in the warehouse to move products of all sizes, even from building to building or between warehouse floors.
This ease of movement also promotes better workplace safety while freeing up employee time, increasing their productivity.
A Better Storage Solution
In the end, each warehouse has a unique combination of products, individual logistical flow, and needs. There's no one-size-fits-all solution, but the right combination of storage systems tailored to your warehouse can support more capacity, smoother operations, and faster output.
At Simply Rack, we specialize in designing strategic solutions that overcome your warehouse's obstacles. Get in touch for support in maximizing your operation's potential. We'll help you strategize a solution that will improve efficiency today while standing up to tomorrow's demands so you can streamline profitability.