Teardrop Pallet Rack AUSTIN, TX
Teardrop pallet racks have been around for nearly 50 years, and have become a staple in warehouse storage. Their unique design provides sturdy, dependable storage for palletized items and easy customizability to maximize your space.
At Simply Rack, our teardrop pallet racking systems are available both bolted or boltless (welded) and are made with high quality steel to suit all of your warehouse storage needs.
WHAT ARE TEARDROP PALLET RACKS?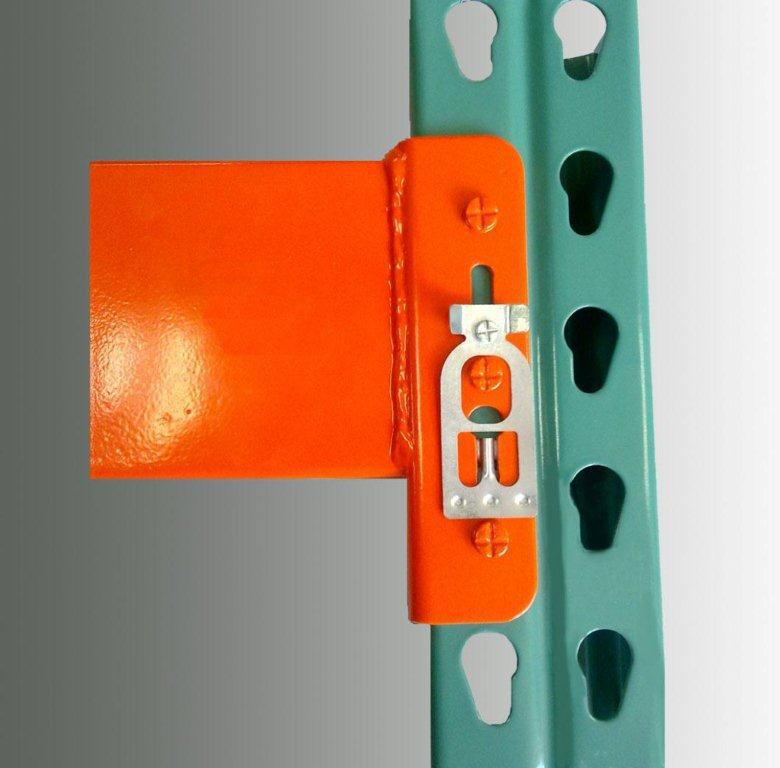 Teardrop pallet racks are a type of pallet rack characterized by the teardrop-shaped holes that hold the rack's horizontal beams. This unique shape allows for easy assembly and disassembly while securely holding the beams in place. The palletized items rest on top of these beams, which are held in place with mounting clips. Teardrop racks use friction and the force of gravity, meaning that more weight compresses and strengthens the clips holding them in place.
The teardrop pallet rack design allows for easy reconfiguration, meaning that you and your staff can adjust the height of the shelving or reinforce it to accommodate larger loads without additional hardware.
Other benefits of teardrop racking include:
Secure, reliable storage for pallets
Customizability and compatibility
Quick, easy assembly and disassembly
Stores goods vertically in various levels to maximize space
ARE TEARDROP PALLET RACKS COMPATIBLE WITH OTHER PALLET RACKING SYSTEMS?
One of the primary benefits of teardrop pallet racks is that they are nearly universally compatible, meaning that you can purchase used pallet racks from a variety of manufacturers and still trust them to work together.
The vast majority of teardrop pallet racking systems utilize the same universal teardrop design due to general demand and desire for customization. While you should always check with your pallet rack supplier, you'll likely be able to purchase supplemental teardrop pallet racking or additional components without worrying about compatibility.
However, while most teardrop pallet racks have the same design, the materials and manufacturers used can influence the racking's overall performance and weight capacity. We recommend avoiding using different manufacturers' beams in the same bay or beam level, unless you're certain they're seamlessly compatible.
Feel free to contact Simply Rack's pallet rack experts to determine the type of pallet racking you have or need.
WHY CHOOSE TEARDROP PALLET RACKING SYSTEM FOR YOUR WAREHOUSE
In addition to their near-universal compatibility, teardrop pallet racks are a great storage solution for just about every type of warehouse application. They work perfectly for operations that need any sort of flexibility in their storage, since their height and width can be adjusted so easily. Teardrop racks also work well for facilities that may need to expand or want additional storage, since add-ons can be purchased from a different manufacturer and can be assembled with existing staff.
If you're looking to outfit your warehouse with teardrop pallets racks or want to purchase used pallet racks, give us a call. At Simply Rack, we take pride in providing the best warehouse storage solution for your business's unique needs. Located in the Austin, Texas area, we service the entire I-35 corridor from Oklahoma City down to San Antonio. Call 844-722-7225 for a quote!
Martin W
Customer service is #1. I have purchased racking from them on several occasions and have always been blown away by their efficiency. My orders have always been ready to load, they have me loaded and ready to go in no time at all. Rack Quality is Excellent. A+++ rating in my book.
Brad C
We were so pleased with our new racking and shelves from Simply Rack. Tracy was AMAZING throughout the process and with Mike leading the installation crew, it was completed to our specs exactly. We would highly recommend Simply Rack. The price was right, the service was outstanding and the overall experience was excellent. FIVE STARS!
Nick K
I love working with them. We have used them for our racking needs for years. As our business grows they continue to offer great service, are detailed oriented, and always have what we need. Little far up on the north side from where we are but worth the drive.