If you're looking for used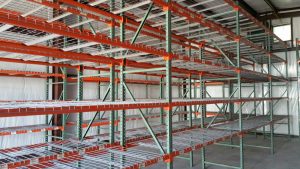 pallet racking, you've come to the right place. We have a wide selection of used pallet racking for you to choose from, so you can find the perfect option for your needs. Plus, we offer competitive pricing on all of our used pallet racking, so you can be sure you're getting a great deal.
Types of Pallet Racks
There are many different types of pallet racks used in warehouses and other storage facilities. The most common types are selective racking, tear drop racking, drive-in racking, push-back racking, and cantilever pallet racks. All of these different types of racking have different uses. Be sure to ask us which type of pallet rack would be best suited for your needs. You can also read more about the different types of pallet racks we carry on our Pallet Rack page.
Used Pallet Racking Selection
Don't miss out on our used pallet rack selection. Used pallet racking often come to us in fair condition. Because we are often receiving new items to sell, we are unable to keep the website updated with an inventory of those products. We add these used pallet racks to Craigslist to sell but you can also call us to find out what we currently have in stock for liquidation.
get in touch with us at (844)722-7225
to ask about our current inventory of Used Pallet Racks